"The Prize seeks to inspire creatives from around the world to pursue a life and career in the arts, and to help careers grow through funding and increased exposure of their work to galleries, collectors and media globally."
Congratulations to the 2021 Yasha Young Projects Sculpture Award Art Prize Winners!
1st Prize Winner: DD Anne (@ddanne1984) // "Queen of Hearts", Porcelain, silk, clay, pearls, 48cm x 25cm x 25cm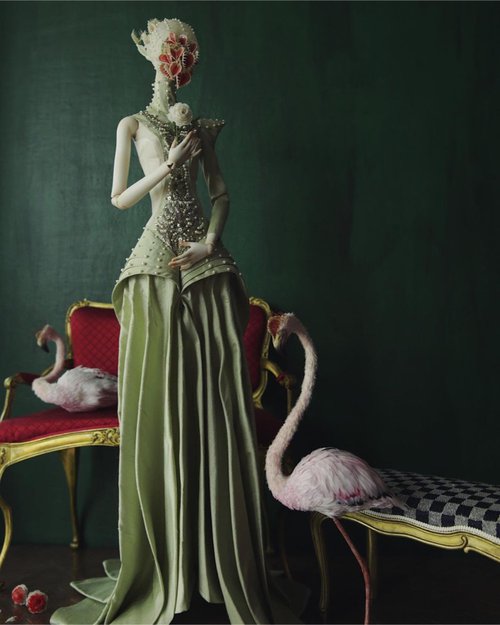 About the artist:
DD-Anne was born in Shanghai, and after studying Bioinformatics at university decided this career choice wasn't for her, so in 2006 became a self-taught doll artist. She does all of the work herself from sculpting to fashion design. DD-Anne does not have a long arts biography, and has not yet exhibit her work in an art gallery. However, she recently won the Pandora Platinum Art Doll Prize in Russia, and was the first person to receive all of the judges' votes in the history of the Prize.
"Although a lot of people tell me "you are a true artist", coming from a non-art background and without the support from my family, it has been difficult to open the door to the art world."
"Queen of Hearts": She is from my doll series 'Alice in Underland'. The initial inspiration was 'famine and cannibalism' which came from my parents' childhood memories.
---
2nd Prize Winner:Melis Buyruk (@melisbuyruk) // "The Rabbit / Habitat", Porcelain, 124cm x 124cm x 10cm
3rd Prize Winner:Tina Yu (@tina.yu.artist) // "SHUI", Epoxy clay, polymer clay, acrylic paint, epoxy resin, 10″ x 20″ x 20"
Honorable Mention:Juli About // "To Our Pains", porcelain, embroidery thread, metal frame, gold wire, 94cm x 61cm x 24cm
2021 Finalists: Virginie Ropers, Stephanie Gartanutti, Shumaker Art, Sara Lee, AKIHITO, Tina Yu, Leondardo Morales, Sebastià Reig, Tomo Hyakutake, Nel14512, MeiMei, Basia Wesolowska aka Lands of Glass, John Paul Azzopardi, Melis Buyruk, Jorge Vascano, Jesica Dalva, DD Anne, Jesse Thompson, Roland Mikhail, Jerzy Jotka Kedziora, Darla Jackson, Costa Magarakis, Juli About, Astrid de Geuser, Kirsten Stingle
Check out the full article Yasha Young Projects Sculpture Award Winners 2021
---
Congratulations to the 2021 Beautiful Bizarre Art Prize Yasha Young Projects Sculpture Award Winners, DD-Anne, Melis Buyruk, and Tina Yu! And thank you to all of the artists who submitted work to this year's Sculpture Awards.