"The Prize seeks to inspire creatives from around the world to pursue a life and career in the arts, and to help careers grow through funding and increased exposure of their work to galleries, collectors and media globally."
Despite the limitations caused by the COVID-19 pandemic in 2020, Yasha Young Projects had the pleasure of sponsoring the Sculpture Awards for another year in a row, in last year's Beautiful Bizarre Art Prize. Check out the finalists below!
1st Prize Winner: Kristine & Colin Poole // "Spinner of Dreams", Fired clay, caseins, sterling silver, brass, 16 x 13 x 10″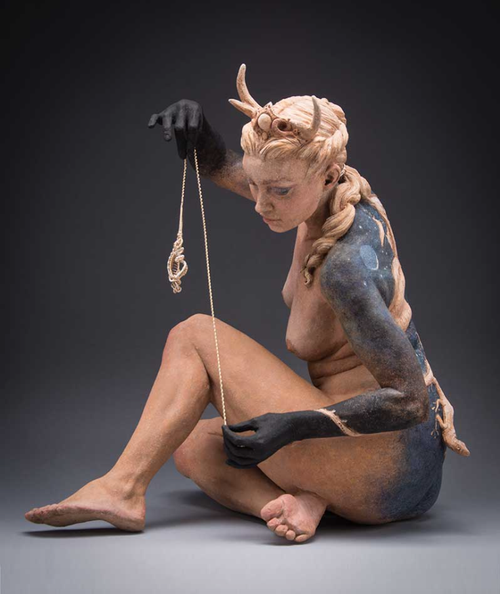 About The Artist
A dynamic husband-wife collaborative artistic team, Colin and Kristine Poole are known for their classically inspired contemporary realism. While they both maintain individual bodies of work, their collaborative clay and bronze sculptures have featured prominently in international exhibits and publications including The Wall Street Journal, Beautiful Bizarre, Spectrum, IBA, The ARC International Salon, Ceramics Monthly, Ceramics Ireland, among others.  Collectively, they have been commissioned to create works for National Geographic, National Audubon, Spectrum, Denver Comic Con, Daimler-Benz, Lourdes Cathedral – France as well as numerous Fortune 500 companies. Their work spans small to life-size as well as monumental bronze public art works, most recently for the Carnegie Library in Michigan. They currently live and create in the foothills of the Sangre de Cristo mountains overlooking Santa Fe, surrounded by their menagerie of birds and beasts.
---
2nd Prize Winner:Richard Stipl // "Dreams of the Prophet", Wood, gesso and graphite, 104 x 64 x 73cm
3rd Prize Winner:Susannah Montague // "The Golden Fleece", Ceramic, glaze, 22k gold luster, 23 x 13 x 14″
2020 Finalists: Sarah Lee, Margarete Adler, Clare Nicholson, Jessica Dalva, Allyson Bode, Stephanie Gartanutti, Brittany Ryan, Chase Travaille, Forest Rogers, Basia Wesolowska, Ozlem Akin, Kirsten Stingle, Cooke-Sasseville, Erik Ebeling, Georgie Seccull, Raciel Romero Jimenez, Justin M Zielke, Keisuke Yoneyama, Emily White, AKIHITO, Susie Lewis, Pol Ballogna
Check out the full article Beautiful Bizarre Art Prize 2020.
---
2020 Beautiful Bizarre Art Prize Exhibition: Midnight Garden
Beautiful Bizarre Magazine's 11th curated exhibition, Midnight Garden, is currently on view at Modern Eden Gallery in San Francisco until November 13th!